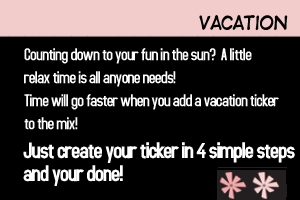 Create another ticker type:

Pregnancy Due Date
Breastfeeding
Baby and Child Age
Birthday Countdown
Trying to Conceive
Angel Remembrance
Weight Loss
Wedding Countdown
Anniversary Countdown
Adoption Countdown
Vacation Countdown
Other Events (General)
Login to control your ticker*
*Only for Weight Loss tickers.
Vacation Countdown Tickers

Step Two: Select a Marker / Slider.
Select the marker / slider that will slide across your ticker as time moves along:

Step Three: Input Text
Go back to Step One -- choose a background.